Laboratory history:
The laboratory was organized in 1991. The founder and the first head of the laboratory was N.A. Aitkhozhina, Doctor of Biological Sciences, professor, Academician of the Kazakh National Academy of Sciences. Since 2006 – Ismagulova G.A., Ph.D in Biology. The genome laboratory is the first laboratory in Kazakhstan for the study of the plant genome and the human genome. In 2009 "Human genome" group separated from the laboratory to become the Laboratory of Structural and Functional Genomics.
---
Head of the genome laboratory Ismagulova Gulnar Akimzhanovna.
Contact information: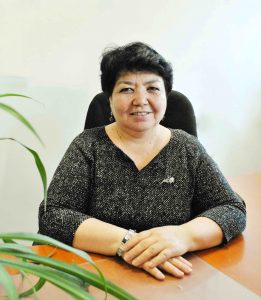 Office number.: +7 727 293 7174; +7- 777 246 6189 (cell phone number).
e-mail:  i_gulnara@mail.ru, gulnara_ismagulova@hotmail.com
Education:
1978-1984 – S.M. Kirov Kazakh state university, biology department, specialty – biology, biology and chemistry teacher.
Work experience: 1979-1983 – S.M. Kirov Kazakh state university, biology department, microbiology division.
1983-present – M.A. Aitkhozin Institute of molecular biology and biochemistry, genome laboratory (laboratory assistant, junior researcher, researcher, senior researcher, leading researcher, head of the laboratory since 2006).
Degree: 1993 – Ph.D, specialty 03.00.04 – «Biochemistry».
Research interests: Structural and functional organization of the plant genome, genetic engineering, biotechnology.
---
Main research directions and areas:
Plant genome – structural and functional organization of the genome of cereals, expression of protective response genes of cereal crops against phytopathogens;
Human genome – identification of features of human genes and their regulatory zones in normal and pathological conditions (localization of mutations, polymorphisms, deletions and insertions), gene diagnostics, identification of risk groups and susceptibility to diseases;
Paleo- and ethnogenomics – paleogenomic DNA studies from the biological material of archaeological excavations, ethnogeography and ethnogenomic studies of Kazakhstan populations.
Genotyping of rare and endangered plants, animals and birds – identifying the genetic diversity of plant, animal, bird populations listed in the Red Book of Kazakhstan and the International Red Book;
Space Biology and Biotechnology – identifying the effect of a cosmic factors complex on some species of higher organisms and developing on their basis ways of protecting man;
The basic research methods used: PCR technology (RAPD, CAPS, SCAR, PT-PCR), cloning, sequencing, DNA/RNA and proteins extraction from a variety of samples, gene isolation, gene structures design, plant trasnformation, including cis-gene, oligonucleotides synthesis, plasmid DNA extraction, nucleic acids and proteins electrophoresis, plant cells' cultures.
Projects carried out in the genome laboratory since 2018-2020:
АР05136045 «Obtaining new lines of wheat and potatoes based on the use of a complex of innovative approaches of genetic engineering and cell technologies»