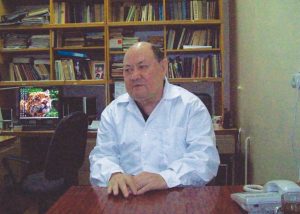 Gilmanov Murat Kurmashevich (1942-2014)
Academician of the National Academy of Sciences of Kazakhstan, Doctor of Biological Sciences, Professor
---
Born on April 23, 1942, Osh, Kyrgyz Soviet socialist Republic – 2014, Almaty region, Almaty Kazakhstan scientist, doctor of biological Sciences (1991), Professor (1992), academician of the National Academy of Sciences of the Republic of Kazakhstan (2003).
In 1964 he graduated from the Kazakh state University. Since 1983 he headed the laboratory of structure and regulation of enzymes of the M.A. Aitkhozhin Institute of molecular biology and biochemistry of NAS RK. From 1993 to 1995 — acting Director General of the National center for biotechnology of the Republic of Kazakhstan.
The field of scientific activity of Gilmanov included plant biochemistry, cell biology and biotechnology. Gilmanov and his scientific school have the priority of establishing the structure and functions of subcellular organelles of plant cells –spherosomes. Research has led to the development of innovative technologies for the preparation of drugs – phosphatidylinositol, enzymes and bioregulators, the development of new drug transport systems that are tested in medical institutions. Gilmanov laboratory had close scientific relations with scientists of the Russian Federation, Israel, the Netherlands, the USA. Gilmanov M. K. was the author of more than 150 scientific publications and author of monographs – Methods of purification and study of plant enzymes (in collaboration with O.V. Fursov and A.P. Frantsev), – Alma-Ata: Nauka, 1981.; and also "Structure and functions of plant cell spherosomes" (in co-authorship with collective), – Alma-Ata, 1997.
Awarded a Silver medal of the Exhibition of achievements of national economy USSR.