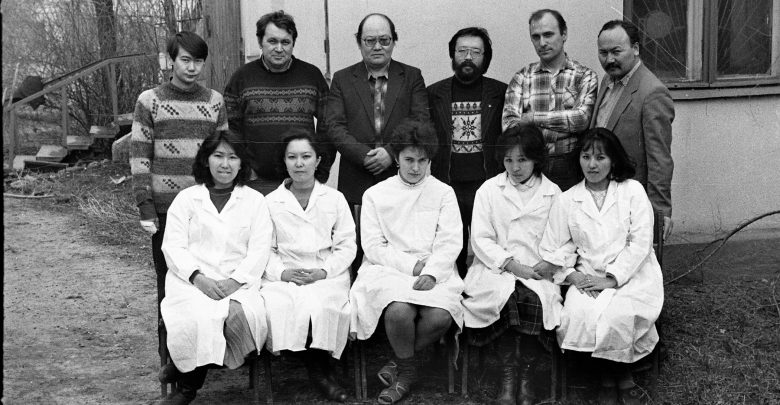 MURAT GILMANOV
(1942-2014)
Murat Gilmanov, Doctor of biological sciences, Academician of the National Academy of sciences of the RK the talented scientist would have turned 81 years on April 23, 2023. Academician Gilmanov's scientific interests included such areas of research as plant biochemistry, cell biology, biotechnology, nanotechnology and medicine.
Under the guidance of M. Gilmanov, fundamental research was carried out in the field of biochemistry of nitrogen metabolism in plants, cell biology, hormonal signal transduction, and enzyme engineering. The results of the research led to the development of innovative technologies for the production of drugs – phosphatidylinositol, enzymes and bioregulators, the development of new drug transport systems.
Academician M.K. Gilmanov received 28 patents for inventions, published 260 scientific papers, including 3 monographs and 5 textbooks for high school. His research has been presented at international scientific conferences around the world. Under his leadership, 15 dissertations for the degree of candidate and doctor of sciences were defended. In addition, Gilmanov M. made a significant contribution to the popularization of scientific knowledge among the population, speaking on radio, television, newspapers and lecturing.
Murat Gilmanov began his scientific activity in 1968 as a senior laboratory assistant in the laboratory of biochemistry at the Institute of botany of the Academy of sciences of the KazSSR. In 1983 Gilmanov M.K. was invited by Academician Murat Aitkhozhin to the newly opened Institute of molecular biology and biochemistry of the Academy of sciences of the Kazakh SSR as the head of the laboratory of the structure and regulation of enzymes, where he worked until 2014.
Academician Murat Gilmanov was awarded many high scientific awards, including the silver medal of VDNKh of the USSR, the badge "Excellence in Science of the Republic of Kazakhstan", the medal "100th Anniversary of the Academy of Sciences of the Republic of Kazakhstan", the medal "Eren Enbegi Ushin", and was also elected a member of many scientific communities.
A world-famous scientist, mentor, public figure – this is how his associates and students speak about Murat Gilmanov. A phenomenal personality who served people and science until his last breath. His works and achievements have left a noticeable mark in Kazakhstan's science.