Қазақстан халқының бірлігі күні!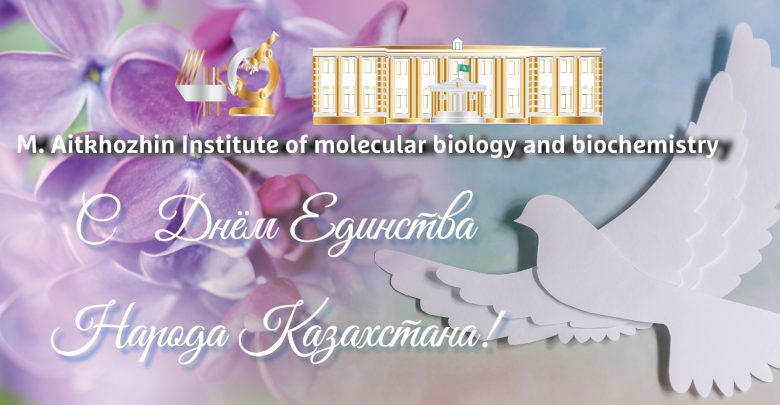 Dear colleagues, friends!
On behalf of the entire staff of M.A.Aitkhozhin Institute of molecular biology and biochemistry, I congratulate you on a wonderful holiday – the Day of Unity of the People of Kazakhstan!
On October 18, 1995, a Decree was signed by the President of the Republic of Kazakhstan, according to which May 1 was declared the Day of Unity of the People of Kazakhstan. This holiday has been celebrated in the country since 1996.
May 1 reminds us of the importance of maintaining interethnic and interreligious harmony as one of the key factors in the development and prosperity of our common homeland. The basis of this holiday is respect for the culture and traditions of all ethnic groups of our multinational country, where more than 120 nations live. Each of these nations is unique in its own way, but together we are one big family.
The President of Kazakhstan K.K. Tokayev, in his speech on April 27, 2023 at the XXXII session of the Assembly of the People of Kazakhstan "A Just Kazakhstan: Unity, Stability, Development", noted that without unity and stability, political and economic reforms in the country cannot be carried out, that unity is not only the path to the goal, but and one of the main pillars of our statehood, only with these values in mind can we build our bright future.
To strengthen cohesion and unity, K.K. Tokayev focused special attention on the issues of suppressing provocations aimed at undermining unity and harmony in the country; elimination of the causes of ethno-social tension; development of a multicultural environment in the country and mastery of the state language by all citizens; strengthening the interaction of the Assembly with political parties and state bodies, as well as the implementation of a consistent and scientifically based ethnic policy in the country.
As Kassym-Zhomart Tokayev emphasized, the national policy of our state is a course towards multi-ethnicity, giving equal rights to all citizens of the country, regardless of their nationality and religion. Thanks to the fundamental principle of "unity in diversity", we will definitely overcome all difficulties and achieve our goals.
With all our hearts we wish peace and harmony to all. Good health, good luck and success to you for the benefit of our homeland – the Republic of Kazakhstan!
Sincerely, General Director of IMBB, Professor K. Sharipov