A brief history of the Laboratory
The Laboratory of molecular immunology and immunobiotechnology was organized in 1997 under the guidance of professor Nikolai Belyaev, who headed the laboratory until 2017. Between 2017 and 2022 the laboratory was headed by Dr. Raihan Tleuliyeva. Since January 2023 the Acting head of the laboratory is Ph.D Nurshat Abdolla..
---
Abdolla Nurshat
Acting head of the laboratory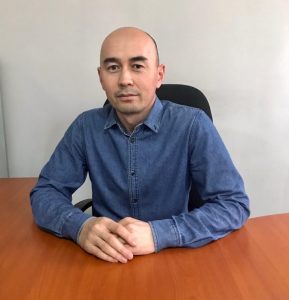 Ph.D. in biology
Phone: +7 (727) 293-70-92
E-mail: nurshata@gmail.com
Nurshat Abdolla graduated from the biology faculty of al-Farabi Kazakh National University in 2012. The title of his Ph.D. thesis was: "The study of MDSC in various models of chronic inflammation". In 2020 he was awarded a Ph.D. majoring in «6D060700 – Biology».
He completed grant internship and trainings at the UICC (The Union for International Cancer Control) at MD Anderson Cancer Center (Houston, USA); at the RECETOX Center for Research on Toxic Compounds in the Environment (Brno, Czech Republic); at the Wistar Institute (Philadelphia, USA) as part of the academic mobility program.
Abdolla Nurshat has been working in the Laboratory of molecular immunology and immunobiotechnology of M.A. Aitkhozhin Institute of molecular biology and biotechnology since 2009 as a laboratory assistant, junior researcher, researcher, senior researcher, and since 2023 he has been appointed Acting head of thе Laboratory of IMBB.
Abdolla Nurshat was a responsible executor of the project "Effect of the elimination of myeloid suppressor cells by cytotoxic conjugates of alpha-fetoprotein immunity and tumor growth in the experiment" (2013-2015). He has more than 40 publications, the h-index is equal to 5, the total number of citations is 51. ORCID: 0000-0002-4769-7824. Scopus ID: 57194001982. WoS ID: R-2193-2016.
Research interests:
Cellular and molecular immunology.
---
The main directions of research activities
Obtaining of monoclonal antibodies and development of ELISA test systems based on them
Research projects
2022-2024 
IRN АР13067593 «Investigation of the role of MDSC in the regulation of the immune response to the vaccine during aging and the development of pharmacological approaches to improve the effectiveness of vaccination», scientific supervisor – Perfilieva Y.V. Ph.D. 
2021-2023 
AP09259390 «Study of the effect of SARS-CoV-2 coronavirus antigens on the pro-inflammatory activity of neutrophils, monocytes and T-regulatory cells», scientific supervisor – Ostapchuk E.O. Ph.D. 
2020-2022  
AP09562010 «Activity of NF-κB signals in myeloid suppressor cells generated from bone marrow cells under physiological and pathological conditions», scientific supervisor – Tleulieva R.T. Ph.D.
2018-2020
2AP05131710 "Pharmacological approaches to the correction of myeloid suppressor cells (MDSC) to suppress chronic inflammation as a tumor growth stimulator in the experiment", scientific supervisor – Tleulieva R.T. Ph.D.
AP05131691 "Molecular mechanisms of influence of T-regulatory cells on the activity of tumor cells", scientific supervisor – Ostapchuk E.O. PhD.
 2015-2017
5586/GF4 The role of myeloid suppressor cells (MDSC) in the development of chronic inflammation associated with aging", scientific supervisor – professor Belyaev N.N. doctor of biological sciences.
2555/GF4 "Molecular mechanisms of the negative impact of cancer stem cells (CSC) on NK-cell cytotoxicity", scientific supervisor –Perfilyeva Y.V. Ph.D.
 Research methods
 Cultivation of animal and human cells, isopycnic centrifugation of cells in density gradients, microscopy, immunomagnetic cell separation, flow cytometry, cell cloning, enzyme immunoassay, non-radiological methods for assessing cell proliferation and death, spectrophotometry, SDS polyacrylamide gel electrophoresis, gel filtration, ion exchange and affinity chromatography, cryopreservation of animal and human cells.
Scientific achievements of the laboratory
The participation of myeloid suppressor cells (MDSC) of the bone marrow in immunoregulation has been proven and its molecular mechanism has been studied in detail
A new concept of cancer pathogenesis has been developed and experimentally confirmed, based on tumor production of factors stimulating the immunosuppressive activity of MDSC, which, in turn, suppress antitumor immunity and thus promote tumor growth. It has been proven that one of these factors is alpha-fetoprotein.
A method for preventing complications in patients with ischaemic heart disease after coronary artery bypass grafting by mobilizing and activating their own HSCs with cytokines was developed together with A.N. Syzganov National Scientific Center of Surgery.
Monoclonal antibodies to various epitopes of alpha-fetoprotein and human choriogonadotropin have been obtained. Monoclonal antibodies to staphylococcal enterotoxin A and alpha-hemolysin were obtained and enzyme immunoassay diagnostic test systems were designed based on them.
For the first time, a new methodological approach has been developed for the isolation and analysis of T-regulatory cells with increased immunosuppressive and migratory activity. This approach revealed an increase in the content of circulating hyaluronan-binding T-regulatory cells characterized by increased expression of CD39 ectonucleotidase responsible for suppressor activity in patients with breast cancer.
A minor subpopulation of natural killer cells with immunoregulatory properties expressing the HLA-G suppressor molecule has been characterized for the first time. An increase in the content of this subpopulation in the peripheral blood of patients with breast cancer was demonstrated.
A technology for obtaining cultures of tumor cells enriched in cancer stem cells from tumor tissue (lung cancer) and human pancreatic adenocarcinoma cell line MiaPaCA2 using tumerospheres in combination with TGF and TNFa stimulation has been developed. The mechanisms of anergy acquisition by natural killer cells after contact with a culture of MiaPaCA2 tumor cells have been established.
It has been established for the first time that local chronic inflammation under experimental conditions induces systemic accumulation of myeloid suppressor cells.
For the first time experimentally substantiated the possibility of elimination of myeloid suppressor cells using the cytotoxic AFP-daunorubicin conjugate, which leads to a significant slowdown in tumor growth.

Over the years of the laboratory's existence, our employees have published more than 200 articles in international and Kazakhstan's scientific journals, more than 7 Ph.D. dissertations were defended.