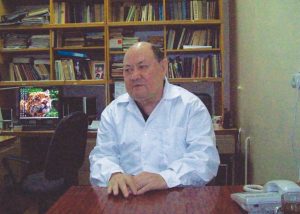 GILMANOV MURAT KURMASHEVICH (1942-2014)
Academician of the National Academy of Sciences of Kazakhstan, Doctor of Biological Sciences, Professor
---
Murat Kurmashevich Gilmanov was born on April 23, 1942 in Osh city, Kyrgyzstan. He graduated from the biology faculty of the C.M. Kirov Kazakh State University (1959-1964). He was a postgraduate student at the A.N. Bach Institute of Biochemistry (Moscow) between 1965 and 1968 years.
In 1969 he defended his candidate thesis on "Comparative study of NAD- and NADP-specific maize glutamate dehydrogenases and malate dehydrogenases". In 1990 he defended his doctoral dissertation "Characterization and regulation of oxidoreductases catalyzing the interconversions of glutamate and 2-oxoglutarate in cereals". Gilmanov was awarded the title of professor in 1992 and was elected a corresponding member of the Academy of Sciences of the Republic of Kazakhstan in 1995. He became a full member (academician) of the National Academy of Science of the Republic of Kazakhstan in 2004.
Murat Gilmanov worked in the laboratory of biochemistry of the Institute of Botany, as a senior laboratory assistant, junior researcher and senior researcher between 1968 and 1983 years.
In 1983, he headed the Laboratory of the structure and regulation of enzymes at the Institute of Molecular Biology and Biochemistry, where he worked until 2014. Under his guidance, fundamental research was carried out in the field of biochemistry of nitrogen metabolism in plants, cell biology, hormonal signal transduction and enzyme engineering, technologies for obtaining enzymes and bioregulators, drug transport systems were developed. Gilmanov and his scientific school have priority in establishing the structure and functions of subcellular organelles of a plant cell – spherosomes. The laboratory of Murat Kurmashevich Gilmanov worked closely with scientists from the Russian Federation, Israel, the Netherlands, and the USA.
Murat Gilmanov is the author of more than 260 scientific works, including 3 monographs and 5 textbooks for high school. His scientific works were presented at international scientific forums in Europe, Asia and United States of America. Gilmanov's developments were protected by 28 certificates for inventions and patents, repeatedly demonstrated at international exhibitions. One of them was awarded the silver medal of VDNKh of the USSR.
Murat Kurmashevich Gilmanov also made a great contribution to science as a mentor, under whose guidance 13 candidate and 1 doctoral dissertation were defended. He gave special courses on biochemistry and nanotechnology to students of al-Farabi Kazakh National University, and also popularized scientific knowledge among the general population by lecturing and speaking on television.