Identification of a new minimally invasive biomarker for the diagnosis and prognostication of diabetic retinopathy based on microRNA
In the the laboratory of structural and functional genomics of the M. Aitkhozhin Institute of Molecular Biology and Biochemistry, under the leadership of doctor of biology, professor Sharipov K.O., research is being conducted aimed at studying microRNAs in diabetic retinopathy (Grant financing project of the MES of RK No. AP08857430).
Diabetic retinopathy (DR) is a microvascular complication of diabetes mellitus (DM), which is the main cause of irreversible blindness. Difficulties in the diagnosis of DR are determined by the asymptomatic occurrence and low severity of the disease in the early stages, with the difficulty of classification by phenotypic signs, as well as with high qualification requirements for an ophthalmologist. In this regard, most cases of DR are detected at advanced stages, when the therapy is not effective enough. This serves as a basis for the search and study of new biomarkers that contribute to effective therapy.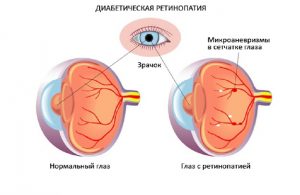 MicroRNAs are extremely promising markers for the diagnosis and prognostication of many diseases. MicroRNAs are a plentiful class of small, non-protein-coding RNAs that function as negative regulators of most genes in the genome and are involved in important biological processes such as differentiation, apoptosis, proliferation, etc. An increase or decrease in the expression of microRNAs that regulate the expression of key genes can lead to various diseases, including cardiovascular, oncological, autoimmune, etc. microRNAs play an important role in the pathogenesis of diabetes and its vascular complications. One of the main advantages of microRNAs among other biomarkers is their circulation in biological fluids. Due to this property, changes in the level of expression of the microRNA marker can be controlled by a minimally invasive method. The second important advantage is their high stability in biological fluids.
The aim of the project is to determine the diagnostic and prognostic value of circulating microRNAs in diabetic retinopathy. The project will search for an association between the concentration of circulating microRNA and diabetic retinopathy in the Kazakh population for the development of minimally invasive biomarkers for the prognosis of the disease, early diagnosis without clinically visible symptoms, prognosis of possible complications and sensitivity to treatment. The use of such a marker in combination with existing diagnostic methods will allow the doctor to make the correct diagnosis in a timely manner and prescribe the necessary therapy. The use of markers for predicting the development of diabetic retinopathy will minimize the risks by prescribing preventive measures.