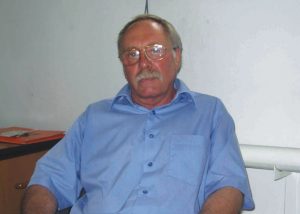 Fursov Oleg Vladimirovich (he was born in 1950)
Doctor of Biological Sciences, Professor
---
Fursov Oleg Vladimirovich is a large Kazakh scientist, a specialist in the field of plant biochemistry, biochemistry, technology and grain quality assessment. He graduated from the biological faculty of Kazakh state University by S.M. Kirov (1972). In 1975 he defended his candidate, and in 1989 at the A.N. Bach Institute of biochemistry (Moscow city) – doctoral dissertation on "Amylases and their regulation in cereals", Professor since 1994, O.V. Fursov is a student and follower of well-known grain biochemists – academician T.B. Darkanbayev and Professor Yu.V. Peruansky. He made a significant contribution to the development of studies of mechanisms of regulation and functioning of enzymes of amylase and proteinase complexes, to the development on this basis of biochemical approaches to improve grain quality.
From 1983 to 1998 he was the head of the laboratory of grain crops biochemistry at the M.A. Aitkhozhin Institute of molecular biology and biochemistry NAS RK, in subsequent years was the chief researcher of the same laboratory.
The main scientific works of O.V. Fursov and his students are devoted to the field of research of biochemical properties, cellular and supramolecular regulation of amylases and proteases important for the biological and technological quality of grain enzymes in the main crops of Kazakhstan – wheat, rice, corn. A significant contribution, in particular, was made to the knowledge of the mechanisms of activation of concealed (latent) forms of amylases, their phytohormonal and sugar-metabolic regulation, enzyme-substrate interaction, as well as regulation of the activity of endogenous protein inhibitors. On the basis of fundamental studies on α-amylase isoenzyme test and developed together with the genetics-breeders of the Kazakh research Institute of farming has been created is resistant to sprouting in the ear grade soft wheat Lutescens 70.  Practical developments made in the laboratory under the leadership of O.V. Fursov were awarded the bronze medal of the of the Exhibition of achievements of national economy USSR (1988).
O.V. Fursov is the author of more than 100 printed works, including 3 monographs, 15 copyright certificates, a participant of a number of major international congresses and symposia, he prepared 7 candidates of Sciences.