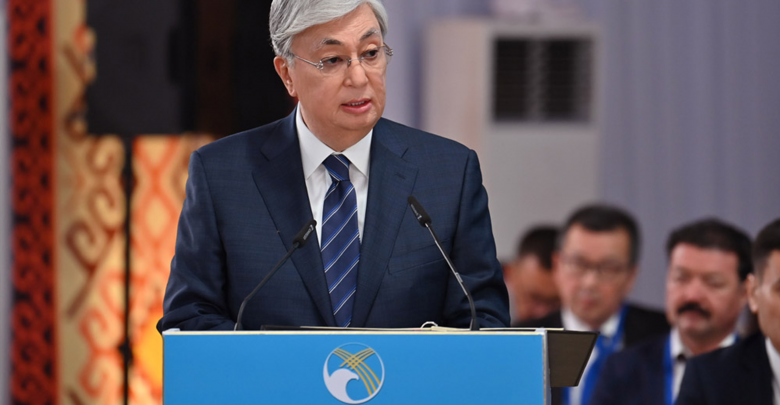 On 16th June, 2022, the first meeting of the National Kurultai was held in Ulytau under the chairmanship of Kassym-Jomart Tokayev. The Kurultai included 117 people from all regions of the country, various fields of activity and different generations.
Kassym-Jomart Tokayev opened the meeting of the National Kurultai with words of gratitude to all Kazakhstan people who supported the initiative to amend the Constitution and took part in the voting.
The President noted that he initiated the convening of the National Kurultai to unite the people, achieve the goals of modernizing the country and identified three tasks that need to be implemented:
The first is the strengthening of national unity. Formation of true patriotism and values ​​that move society forward to prevent radicalism and extremism. Developing a culture of political responsibility to build sustainable democratic institutions.
The second is the involvement of the population in large-scale reforms through new technologies. The use of digital technologies will allow relations between the state and society to be more effective, and citizens to see the real benefits of the ongoing reforms. The President instructed to develop a special Qurultay mobile application, where the population can express their opinion on the modernization of the country online.
The third is personnel policy. The President emphasised that there are many honest and qualified personnel in the civil service who work for the good of the country, but there are also unskilled personnel who discredit the image of civil servants, they will be immediately said goodbye.
Kassym-Zhomart Tokayev spoke about the status of the Kazakh language, where he noted that the positions of the state language are being strengthened and work in this direction is ongoing.
Also, the President touched upon the issue of changes in national holidays and anniversaries. He proposed to return the Republic Day, October 25, the status of a national holiday, the day the Declaration of State Sovereignty of Kazakhstan was adopted.
Ten members of the National Kurultai also made presentations at the event.
At the end of the meeting of the Kurultay, the Head of State awarded the prominent poet Mukhtar Shakhanov the highest degree of distinction – the title of "Kazakhstannyn Enbek Yeri" and presented him with a special distinction – the Golden Star and the Order of Otan.