World Science Day for Peace and Development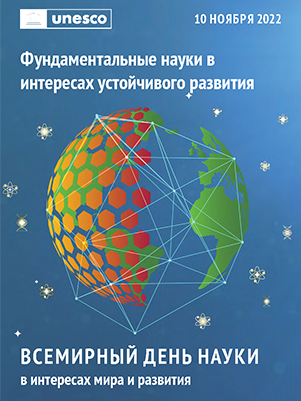 November 10 – World Science Day for Peace and Development
World Science Day for Peace and Development is celebrated annually on 10 November.
This day, first announced by UNESCO in 2001, highlights the important role of science in society and is dedicated to deepening the dialogue between scientists and the wide audience.
The objectives of the World Science Day for Peace and Development are:
– Raising public awareness of the role of science for the peaceful and sustainable development of societies;
– Encouragement of national and international solidarity in the interests of sharing scientific achievements among different countries;
– Renewed national and international commitment to the use of science for the benefit of society;
– Drawing attention to the challenges facing science, as well as increasing support for scientific activities.
The theme for 2022 is "Basic Science for Sustainable Development".
"To achieve the 17 goals of the sustainable development strategy until 2030, the role of fundamental sciences is more important than ever," with such a message, the UN General Assembly announced the signing of a resolution on holding a thematic year in 2022. At the same time, it was emphasized that the adoption of such a decision is due to the high importance of fundamental sciences for humanity, "the application of fundamental sciences is vital for progress in medicine, industry, agriculture, water resources, energy planning, ecology, communications and culture."
At all times, fundamental science has been the driving force behind technological progress and economic transformation. Fundamental discoveries in the field of physics, chemistry, biology, mathematics underlie applied research, technological breakthroughs and innovations.
Having a capacity in the basic sciences is in the interests of both developed and developing countries to promote sustainable development and improve people's living standards.
Happy holiday dear colleagues!
Happy Science Day!
Creative success and great discoveries to you!