WORKING VISIT OF THE CENTER FOR INTERNATIONAL PROGRAMS' HEADS TO IMBB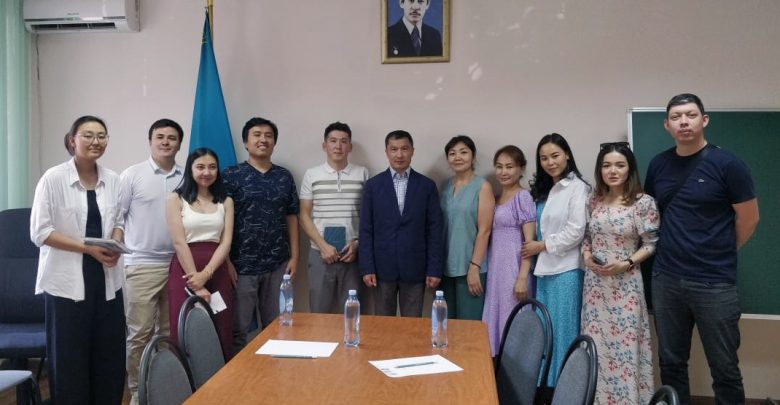 On July 18, 2023, the M.Aitkhozhin Institute of Molecular Biology and Biochemistry was visited by the Chairman of the Board of the Center for International Programs Olzhas Sakenov and the Deputy Chairman of the Board of the CIP Zhalgas Molzhigit. The purpose of the visit was to meet with the IMBB staff to clarify all the details related to education and internships abroad at research centers and universities.
Since 2021, on behalf of the President of the RK, Kassym-Jomart Tokayev, within the framework of the Bolashak program, 500 grants have been allocated to Kazakh scientists for internships in leading scientific centers of the world. This is a great opportunity for all employees of the scientific field, with the support of the state, to improve their skills, learn from experience and establish international relations.
Representatives of the CIP answered questions that worried young scientists. They explained the requirements for candidates, the details of the application process and their selection. They told scientists about the changes to the requirements for the Bolashak program, and encouraged them to actively participate in the competition, using a unique opportunity to bring their scientific ideas to life.
The meeting was productive, the scientists were grateful for the valuable advice and recommendations that helped them understand how best to present their knowledge and experience for successful participation in the program.
In 2022, during the year, a scientific internship under the «Bolashak» program, within the framework of the "500 scientists" project, was held by Ayaz Belkozhaev, researcher of the IMBB. The internship took place in one of the leading laboratories in the field of molecular biology and bioinformatics – the Laboratory for Interaction with Industry in the Field of Life Sciences, Institute of Translational Medicine at the University of Liverpool. The young scientist, together with researchers from the UK, studied the basics of neurodegenerative diseases at the molecular level.