On August 22, 2023, a seminar on the topic: "Prospects for the development of the space industry in Kazakhstan" was held at the M.A. Aitkhozhin Institute of Molecular Biology and Biochemistry.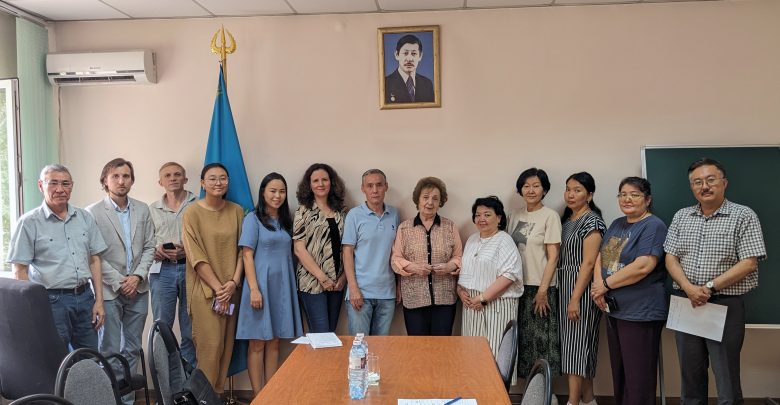 The seminar for the Institute's scientists was held by Aimakhanov Mukhtar Rabbatovich – test cosmonaut, coordinator of international programs and relations of the Institute of the Ionosphere, and Grishchenko Valentina Fedorovna – leading researcher of the Institute of the Ionosphere.
Mukhtar Rabbatovich Aimakhanov emphasized that Kazakhstan has its own history in the field of space flights, as well as experience in conducting research and experiments on board orbital complexes. He paid special attention to the importance of the developments in Kazakhstan that allow us to look to the future with optimism and develop space science in the country.
The main task facing the space industry in Kazakhstan today is the creation of its own scientific program, which in the near future would make it possible to conduct experiments on the orbital complex. But, first, it is necessary to assess the possibilities and potential for fulfilling the tasks set, to make forecasts.
Mukhtar Rabbatovich believes that Kazakhstan has a scientific potential for the formation and implementation of its state space program, possibly with the involvement of foreign partners. But it must be relevant, unique, competitive at the international level.
The Aitkhozhin Institute of Molecular Biology and Biochemistry already has experience in implementing projects in the field of space biotechnology.
Grishchenko Valentina Fedorovna noted that the space industry and the research carried out have developed since the first flights of our cosmonauts. Space expeditions not only contributed to the development, but also opened up new directions and opportunities for Kazakh science. Successfully performed scientific experiments aboard the «Mir» station and the International Space Station have received recognition at the international level, and our specialists are often invited to participate in various international space projects.
Aimakhanov M.R. and Grishchenko V.F. expressed hope for interesting proposals from the scientists of the institute and invited everyone to join this program. The speakers emphasized that each flight is of national importance and noted the importance of the development of Kazakhstan's space science.