HAPPY CONSTITUTION DAY OF THE REPUBLIC OF KAZAKHSTAN!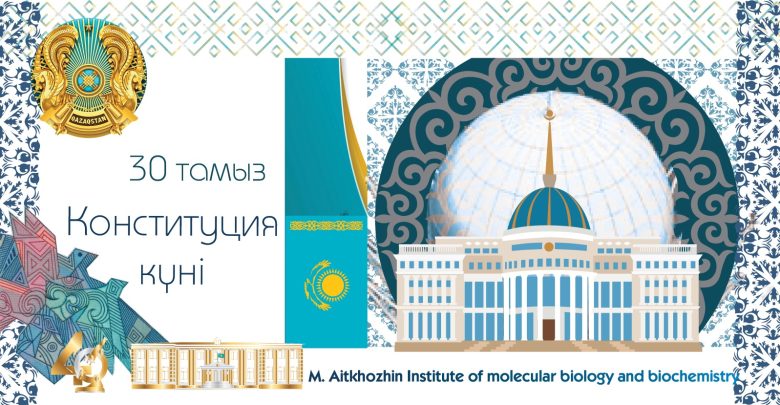 August 30 – Constitution Day of the Republic of Kazakhstan.
The Constitution is the fundamental law of the country and has the highest legal force. It reflects the main rules for the functioning of the state. Constitutional norms are fundamental for the activities of state bodies, political parties, and officials. All related documents, such as laws and other acts of state bodies, are issued on the basis of and in accordance with the Constitution.
The current Constitution of the Republic of Kazakhstan was adopted by a national referendum on August 30, 1995. More than three million citizens took part in the discussion of the draft Constitution of 1995, who made about 30,000 suggestions and comments. Then more than 1,100 amendments and additions were made to 55 articles of the Constitution.
The Constitution of the Republic of Kazakhstan includes nine sections, consists of 98 articles and has been amended and supplemented six times (1998, 2007, 2011, 2017, 2019, 2022). According to the Constitution, Kazakhstan is a democratic, secular, legal and social state, the highest values of which are a person, his life, rights and freedom.
The constitution is the core of any independent state and regulates almost all spheres of life in the country. It was this day that became the starting point of an independent course of development of modern Kazakhstan. Therefore, Constitution Day is one of the main holidays of the country.
The basis of the prosperity of the state is its citizens, the higher the human capital, the higher the standard of living and the wider the opportunities for development. Article 30 of the Constitution of the Republic of Kazakhstan states that citizens are guaranteed free secondary education and the right to receive free higher education in state universities.
Every year, the Government allocates more and more funds for the development of education and science. Since 2021, on behalf of the President of the Republic of Kazakhstan K.K. Tokayev, the project "500 scientists" is successfully operating, within the framework of which domestic scientific personnel are trained in leading laboratories and centers of the world.
Today, thanks to the ongoing policy in the country, each of us has the opportunity to develop, make plans, and look to the future with confidence. We wish every citizen of Kazakhstan health, a bright path and intellectual development for the benefit of our children and the country!
Sincerely, General Director of IMBB, Professor Sharipov K.O.